After creating or opening a database, unless the product is setup otherwise, the first object that appears is a rectangular box named the Database window. It is different on Microsoft Access 97 and Microsoft Access 2000 (and later versions).

The Database window is a classic object of Windows applications. It is equipped with a system icon on the left side of its title bar and three system buttons on the right side. Based on this, you can maximize, minimize, restore, or close it. You can also resize it by dragging one of its borders or corners. Because the Database window holds all objects that are part of a database, if you close the Database window, it also closes the database but leaves Microsoft Access opened. Because Microsoft Access is a Multiple Document Interface (MDI) application, if you maximize any of its child objects, such as the Database windows, the other objects that you subsequently open would be maximized also. In all versions of Microsoft Access, objects are organized in categories.

In Microsoft Access 97, each category is represented by a property page. Therefore, to select a category, you can click its tab.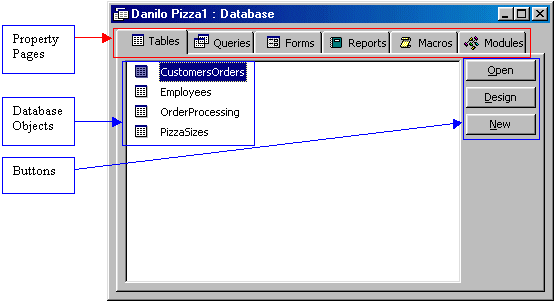 Once in the property page of a category, to open an object:
You can double-click it
You can click it to select it, then click the Open button on the right side
You can also right-click an object and click Open
One of the biggest changes that Microsoft Access 2000 brought was on the Database window. It got completely redesigned and highly improved. Like all classic windows, it is equipped with a title bar similar to the Database window of the 97 version as we described above. Under the title bar, the Database window is equipped with a contextual toolbar. This means that the toolbar responds according to the object that is selected in the Database window.

Like all releases, objects in Microsoft Access are organized in categories. In the 2000 and later versions, objects are represented by the Objects Bar. Therefore, to select a category, you can click its button. Besides the buttons that represent categories, when you click a button, one, two, or three links allow you to create objects of that category. For example, you can create a table by double-clicking the Create Table By Using Wizard link.