Forms, Reports, and Queries Fields
If you want to use just a few fields from a table or an existing query, you can set it as the source of a form or report. Otherwise, you can create a new list of fields that are retrieved from a table or an existing query. To do this, you must build a query.
To build a new query that would serve as the source of a form or report, when in Design View, display the Properties window for the form or report and click the ellipsis button
of its Record Source. Then proceed as we learned to add or insert fields for a query. Once you have finished, you can close the query. It would become the source of data for the object.
If the form or report had already been created with fields that do not exist on the list, these fields on the form or report would become "orphans". For example, suppose you create a form or report based on a Record Source such as Employees:
Because you can, suppose you don't want to start the design of a new form but instead decide to change the Record Source of the form to something else like Customers: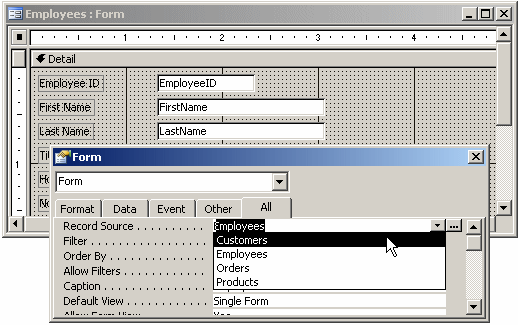 Consequently, the fields that were created from the Employees set of records but that don't exist on Customers would have lost their "ties". When such a form or report displays, the "orphaned" controls would display #Name? error:
For such controls, you can then either delete them or change their own data source.