Filtering Records in Numeric Order
If you have columns that display numeric values, you can filter records with criteria that are based on those numbers and the types of numbers they have. You have many options. You can create a list of only records that use one particular value. You can create a list that includes numbers of a certain range. You can create a list that includes numbers lower than a certain value or numbers higher than a certain value.
To filter records that are exactly equal to a certain value:
You can right-click the desired value under the column header for a table or a query, or right-click the value in a control or the label of that control for a form, then click the Equals option
Click the value on a table, query, or form (for a form, you can also click the label of the control). Then, in the Sort & Filter section of the Ribbon, click Selection and click the Equals option
After clicking, the table or query would display only the records that share the value in the field.
Instead of getting the records that use the same value for a column, you may want the records that use values other than a particular one. To create such a list:
You can right-click the desired value under the column header for a table or a query, or right-click the value in a control or the label of that control for a form, then click the Does Not Equal option
Click the value on a table, query, or form (for a form, you can also click the label of the control). Then, in the Sort & Filter section of the Ribbon, click Selection and click the Does Not Equal option
To use the Equals option, you must click the exact value you want to use as the basis for comparison. Some times, you will need to act on a range of values. To do this, you can right-click any value under a column for a table or query, or a control or its accompanying label on a form, then position the mouse on Number Filters and select from the menu that appears. Here is an example: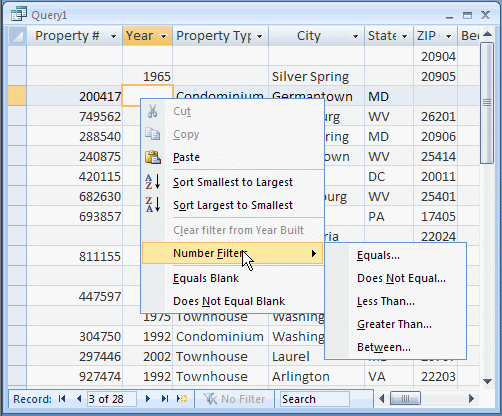 As seen for strings, a dialog box would appear. What you do in the Custom Filter dialog box depends on a few factors. If you had selected:
Equals...: You can type an exact number or a Boolean expression:

You can type a constant number and get the same result as if you had used the Equals option after right-clicking that number in the list
You can use a Boolean operator to perform a comparison. This means that you can use any of the comparison operators we reviewed in Lesson 17. For example, to get a list of numbers higher than 1000, you would select Equals and type >100





Less Than...: You must type an exact value. For example, instead of using the Equals... option with the < operator, this option allows you to enter a value. Microsoft Access would consider the records whose values of that column are lower than the value you typed. For example, if you select Less Than and type 100, you would get the same result as if you have typed <100 with the Equals option. To get the records that have a value less than or equal to a certain value, you have two options:

You can right-click the desired value in the table, query or form and click the Less Than Or Equal To option


You can right-click any cell under the column or right-click the control or its label on a form, position the mouse on Number Filters, and click Equals. Then, in the Custom Filters dialog box, type <= followed by a number