| | |
| --- | --- |
| | One of the types of help you can get is through small boxes called tool tips. These small rectangles display when you position the mouse on a certain item, such as a button on the Ribbon, for a few seconds. In the following example, the mouse is positioned on the Portrait button and a short description appears: |
When you move the mouse away, the small box disappears (or closes itself)
Context-sensitive help refers to help provided on a specific dialog box on the screen. Such help is provided for objects that are part of Microsoft Access. Context-sensitive help is also referred to as "What's This?". To get context-sensitive help, press Shift + F1. This would call a help window that can describe or explain the object that is displaying. Another type of context sensitive help is provided in various dialog boxes. They display a button with a question mark on the left of the system Close button. To use this type of help, click the question mark button
or

: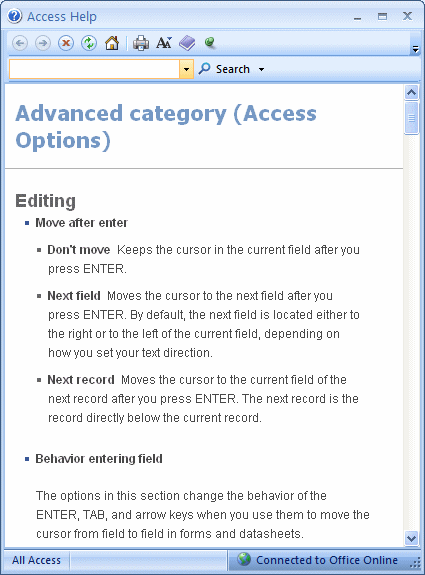 Probably no matter how careful and meticulous you are, sooner or later, you will get errors on something you are working on. These errors display a square box with an exclamation mark:

If you position the mouse on it, a down pointing arrow is added to the right side of the button and if you click the button or its down pointing arrow, a menu would appear. One of the options on the menu is labeled Help on This Error:
You can then click Help on This Error to get some information on how to fix the error.
In various sections of our lessons, we will use an object called the Properties window, which allows you to change the characteristics of a control:
Some options of the Properties window could be difficult to figure out, especially if they are not explicit and if you are not familiar with them. Fortunately, to get help for any item of the Properties window, click it and press F1. The Help window would come up and would display one or more options on the topic you had clicked. If you see a link with the same name of the item you clicked, you can click that link and its explanation would display.
Online help is a program that provides help on Microsoft Access. There are two main types of online help:
Microsoft Access ships with a help system. To use it, simply press F1
If you have access to a Microsoft Developer Network (MSDN) CD-ROM or DVD, which is the help system provided to programmers who use Microsoft technologies (such as Microsoft Visual Studio), it includes a section on Microsoft Office
Although help on the Internet tends to be disparate, it is still the widest form of help available. This is provided in web sites, web pages, newsgroups, support groups, etc. As the publisher of the database environment, it is only natural to refer to Microsoft corporate web site first for help. The Microsoft web site is divided in categories. A web site is dedicated to Microsoft Access at http://www.microsoft.com/access. You can get help at http://support.microsoft.com. Probably the most visited site of Microsoft for developers of all Microsoft products is http://msdn.microsoft.com. This last site provides a tree list that presents items in categories (like the MSDN CD-ROM or a DVD).