Introduction to Data Fields
| | |
| --- | --- |
| | In the previous lesson, we saw that you could create a database using one of the available templates. This approach provides you with readily made objects you can directly start using. Another technique consists of creating an empty database that has no built-in object. Starting a database from scratch allows you to create and add its different objects when necessary. |
The main advantage of this approach is that you will exercise as much control as possible on your database because you will be creating all of your objects. The disadvantage is that you will miss that primary layout that the templates offer. Creating a database from scratch simply means starting from a blank database and adding the different components. Of course, after learning how to perform some changes, you will be able to modify some aspects of a database, whether created from a template or started from scratch.
To create a database from scratch, if you are just launching Microsoft Access, in the left section, you can click Featuring. Then, in the main section in the middle, click Blank Database, give a name in the File Name text box, and click Create.

Practical Learning: Creating a Blank Database
Start Microsoft Access
To start a new database, in the File section and under Available Templates, make sure Blank Database is selected or click it.
In the right section, set the File Name to Clarksville Ice Cream
Click Create to create the new database file
Imagine you create a list of people. The list can be started with names as follows: Bill, James, Hermine, and Khan. This type of list is considered one-dimensional because all of its items fit in one category. In order to create a more detailed list, you may want to include these people's email addresses and probably other related information. If you include these additional pieces of information in the same category, the list may become confusing. To arrange the list, you would divide it in categories. Here is an example:
| | | | |
| --- | --- | --- | --- |
| Name | Email Address | Phone Number | Relationship |
| Bill | bill@yahoo.com | | Friend |
| James | jamesemail.com | (102)399-2893 | |
| Hermine | | (101) 447-8384 | Cousin |
| Khan | @Khan.com | | |
This type of display allows you to refer to a piece of information by its category. This is the basis of a table. A table is a two-dimensional list of items so that the items are arranged by categories. A complete or incomplete series of items that represent each category is called a record. Therefore, a table can be represented as follows:
In database development, a category is represented as a column. Sometimes it is also called a field. A record is represented as a row.
Database Object and Fields
A field is an object used to host, hold, or store a piece of information of a database. Before such an object can perform its function, it must first be created. In the strict sense, the most important or the most regularly used fields of a database are created on a table, but tables may not be the friendliest windows to present to a user for data entry. For this reason, fields can and should also be created on other windows.
The process of making a field available depends on the type of object it will reside on and probably how the field will be used. This leads to two categories of fields: those that can receive or store information and those that can only present or display it. All fields of a table, especially in Microsoft Access, are created to store data. On the other hand, fields on almost all of the other objects (queries, forms, reports) can be made of combinations of already existing fields of a table, or they can be created independently of any existing or non-existing data.
A table is presented as a rectangular window represented in the middle of the screen with a tab. As an option, you can remove the tabs and let the tables display without them. To do this, you can click File and click Options. In the left frame, click Current Database and, in the right frame, in the Document Window Options section, click the Tabbed Documents radio button and remove the check mark on the Display Document Tabs check box:
After making the selection, you can click OK. You will be asked to close and reopen the database:
Which you should do.
On the left side of its top section, a table presents an icon

. The table icon provides a menu you can access when you right-click. The menu allows you to save or change the view of the table.
When a table displays with a tab, the extreme right section of the tab(s) shows a close button
you can click to close the table.
In Microsoft Office Access 2010, by default, a table in Datasheet View is represented with a tab, which prevents the user from moving it around. If you want, you can make the tables of a database appear as single documents. To do this, open the Access Options dialog box from the File category. In the left frame, click Current Database. Under Document Window Options in the right frame, click the Overlapping Windows radio button:
When you click OK, you will be asked to close and reopen the database (which you should do).
Although a table is primarily recognized as an arranged list of columns and rows, each column and each row intersect to create a rectangular box called a cell: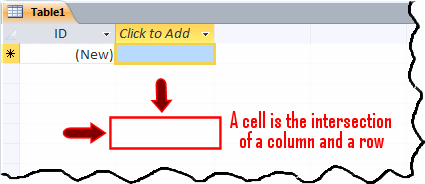 The cell is actually the object that holds data of a table. A cell holds only one piece of information. The database developer decides what type of information would go into a cell but the user types that information. Based on its arrangement of cells, a table is said to display in a datasheet layout or simply a datasheet (because its view is made of cells).
If you start entering data into a table and there are more records than the height of the table can display, the table would be equipped with a vertical scroll bar. The vertical scroll bar would allow you to move up and down on the datasheet. This is useful if/when a table has more records than can be displayed all at once, and this will happen regularly. In the same way, if a table contains one or more records than the width of the table can display, the table would be equipped with a horizontal scroll bar: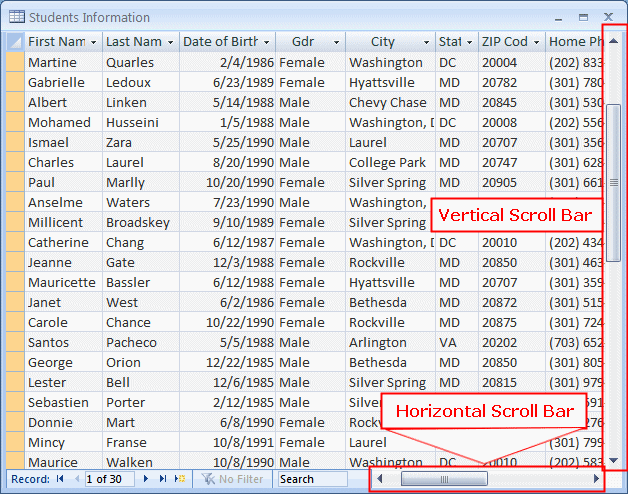 The presence or absence of one or both scroll bars is automatically managed by the operating system and you should not be concerned with the management of the scroll bars. At the same time, if your users need to use a table, they know how to use a scroll bar.
The lower left side of the table is made of four buttons used to navigate the table, one button used to create a new record, and a text box. Each button plays a specific role:
| | | |
| --- | --- | --- |
| Button | Name | Role |
| | First Record | Allows moving to the first record of the table |
| | Previous Record | Allows you to move one record back (if there is one) from the current record |
| | Current Record | Displays the number representing the current record out of the total number of records |
| | Next Record | Allows moving you one record ahead |
| | Last Record | Allows moving you to the last record of the table |
| | New (Blank) Record | Used to enter a new record on the table |
Introduction to Table Creation
To have a table as part of your database, you must create it. You have various options. If you create a database using one of the local templates, it would provide you with a few tables that you can start using. Otherwise, to create a table, on the Ribbon, you can click Create. In the Tables section, click Table. This would cause the Ribbon to switch to a section labeled Fields:

From the Fields tab, you can make selections.

Practical Learning: Creating a Table
Open the Rockville Technologies database created in the previous lesson
On the Ribbon, click Create
In the Tables section, click Table
Like everything that is part of a database, a table must have a name that can be used to refer to that object throughout the database and in other files that can be linked to the table. There are two main ways you can specify the name of a table, either when you save it for the first time or if you decide to rename it.
To save a table you have just created:
You can click File and click Save
You can right-click the Table_X (such as Table1) tab and click Save
You can press Ctrl + S
You can start closing the table. You would be prompted to save the change (if its structure has been changed from the structure it had before it was opened)
If a table has not been saved before, you will be asked to provide a name for the table. A table can have almost any name: Employees, 2&&4DG, Pestes, verTT#@tg, etc. Because you and your users should be able to easily identify a table, there are suggestions you should follow when naming it:
The name of a table should reflect the kind of data it is holding
You can name a table with a few words, with spaces
You can use a prefix that identifies the table as such, a table. The name of a table would be preceded with tbl. If the name includes one word, such as Musicians, you can give the table a name like tblMusicians, another name would be tblStudents
If the name of the table reflects a combination of words, such as Bank Accounts or Students Academic Numbers, you should start each new word with an uppercase. Here are examples: tblBankAccounts, tblStudentAcademicNumbers, tblMemberRegistrations.
| | |
| --- | --- |
| | In our lessons, we will not use the convention of prefixing the name of a database object with three letters. For example, the names of tables will not start with tbl. We came to this decision because most other database environments, including Microsoft SQL Server, do not suggest this rule. Although the lack of this rule may create some confusion, because you will end up having a table and a form with the same name, we will strive to explicitly state what object type we are referring to. For example, we will avoid writing, "Open Employees" or "Open the Employees object". Instead, we will usually state, "Open the Employees table". |

Practical Learning: Saving a Table
To save the table, right-click Table1 and click Save
Type Corporate Items as the name of the table


Click OK
To close the table, click its Close button
The Tables in the Navigation Pane
Because the table is the primary object of a database, when you create a table and save it by giving it a name, Microsoft Access creates a section labeled Tables in the Navigation Pane and displays the name of thew new table in that section. In the same way, you can have as many tables as possible in the Tables section. Here is an example:
As we will see in the next lesson, you can create other object and they will have their sections. Each section is expandable and collapsible. To expand a section, click the header of that section. To the same to collapse a section.
The most regular operations you will perform on a table require that you open it first. To open a table, first locate it in the Navigation Pane then:
You can double-click the table
You can right-click the table and click Open
Any of these actions causes the table to display in Datasheet View in the central area of the screen. In the same way, you can open as many tables as necessary.
After using a table, you can close it. Before closing a table, first select its tab. Then, to close a table:
You can click the close button on the right side of the tabs
You can press Ctrl + Shift + F4
In order to use a table, some operations require that you (or rather the user) first select(s) it:
To select a table in the Navigation Pane, simply click it
If you had opened many tables and they are displaying in the main area of the screen, to select one, click its tab or its title bar
If you have many tables displaying in the main area of the screen, you can press Ctrl + F6 continuously to switch from one table to the next until the desired one displays
We saw that, when or after creating a table, you must save it to make it part of your database. When saving it for the first time, you must give it a name. If the name of a table is not appropriate, you can change it. To rename a table, in the Navigation Pane, you can right-click the name of the table and click Rename.

Practical Learning: Renaming a Table
In the Navigation Pane window, right-click the Corporate Items table and click Rename
Type Employees Resources as the new name of the table
Press Enter
If you have a table you don't need anymore, you can remove it from your database. Because you cannot delete a table if it is opened, you must first close it.
To remove a table from your database:
In the Navigation Pane, right-click the table and click Delete
In the Navigation Pane, click the table to select it. Then, on the Ribbon, click Home. In the Record section, click Delete
In the Navigation Pane, click the table to select it and press Delete
In each case, you will receive a warning to confirm what you want to do. It is important to know that if you delete a table, because it is not a file, it does not go into the Recycle Bin: it is lost, including its records. Therefore, before deleting a table, make sure you really want to get rid of it. When in doubt, do not delete it.

Practical Learning: Deleting a Table
In the Navigation Pane, right-click the Employees Resources table
Click Delete
Read the warning of the message box and click Yes