ASP.NET and Regular Web Files
If you have previously done web development, you are probably familiar with the concept of a web site, which is primarily a series of files as web pages grouped in a main parent folder. ASP.NET uses the same approach: An ASP.NET project is one or more files presented as an application.
Like any regular web site, an ASP.NET application can include different types of files, that is, files with different extensions intended to serve different purposes. This means that, to create an ASP.NET application, you can start by creating HTML files which are files with .htm or .html extension. You can also use Cascading Style Sheet (CSS) files that would allow you to better format or interpret HTML tags. You can also use script-oriented files that have the .js, .vbs. .pl, etc extensions to complement the other pages.
As you would proceed for a normal web site, to start an ASP.NET application, you can create a folder with a name of your choice. Here is an example of a new folder named Grier Summer Camp:
After creating a folder for your project, you should create a virtual directory. To do this, you can first display the Internet Information Services or the Internet Services Manager window (if you are using Microsoft Windows XP Professional, from Control Panel, double-click Administrative Tools then double-click Internet Information Services). Then, in the left frame (of the MMC), expand the name of your server (if you are planning to use another server or computer but is not listed, right-click Internet Information Services, click Connect, type the name of the computer and click OK) and optionally expand the Default Web Site node (if you are using MS Windows XP Professional, you must expand the Web Site node under the computer). Right-click Default Web Site -> New -> Virtual Directory. In the first page of the wizard, you would click Next. In the second page, you must type the name you will use on the browser to access the application you are creating. Here is an example: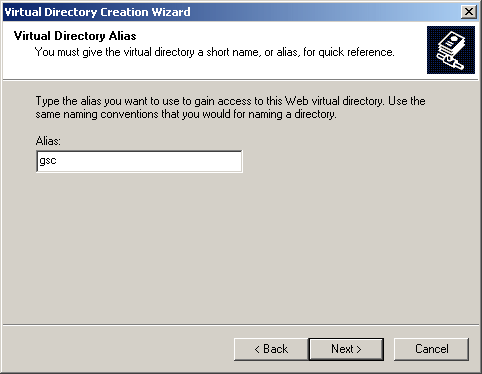 In the third page, you can type the full path to the folder you created or you can click Browse to locate and select the folder you had previously created. In the Browse For Folder dialog box, locate the folder you created: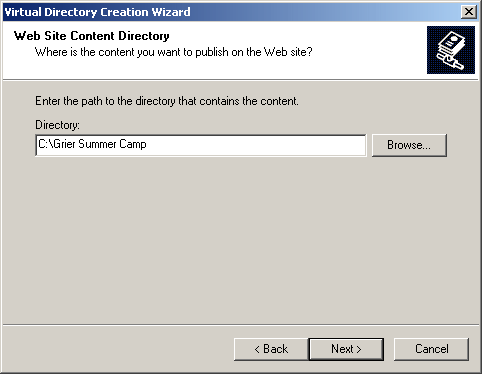 The fourth page allows you to specify how the pages on this site will be accessed: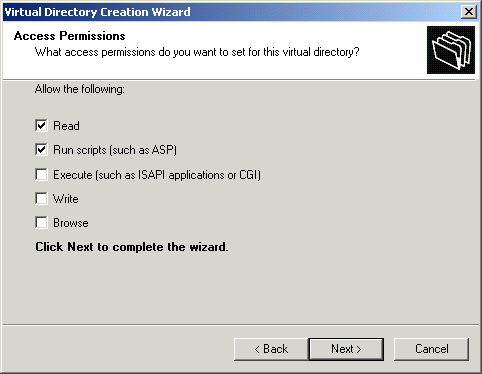 After clicking Next in the fourth page, you can click Finish in the fifth page: A new web site would have been created for your application.
After creating the web site, you can add the necessary files to it. You can create text files and save them with the appropriate extension. When saving the files, make sure you store them in the folder you would have created. This would make it possible for the browser to locate them through the virtual directory.
ASP.NET own pages are text-based files with the .aspx extension. The content of the file is up to you and it doesn't have to have special code than regular HTML tags. Here is an example of a normal HTML-tagged file:
<html>
<head>
<title>Grier Summer Camp</title>
</head>
<body>

<center><h1>The Grier Summer Camp</h1></center>

<p>Located in the heart of Rockville, Maryland, the <b>Grier Summer Camp</b> 
is an attractive setting aimed at entertaining and supporting youth activities 
during their summer vacation.</p>

<h2>Program Presentation</h2>

<p>We feature a state of the art, regularly renovated mansions with world 
class sport facilities.</p>

<p>Coolfront Island, our star house of the season, is a 2-story like chateau 
featuring nicely finished brown bricks whose sight is tremendously appealing. 
The estate introduces two large living rooms with exquisite velour furniture. 
The colonial veranda offers a patio spanning two walls with a lost view down 
the far-reaching landscape. In this particular setting, besides their usual 
activities, children will learn special human needs to make their experience 
unforgettable.</p>

<p>Please consult our catalogue and see why the Washington Tribune called 
us <i>the most attractive summer camp of the area</i>.</p>

</body>
</html>
After creating the file, you should save it with the .aspx extension in a folder of your choice:
After saving the file, to preview it, in the Internet Information Services window, first locate the virtual directory of the project. Then, you can right-click the file (if you don't see the file, right-click the virtual directory and click Refresh) and click Browse. Alternatively, you can open the browser and access its Address bar, change the address to http://localhost/ followed by the name of the virtual directory, and followed by the name of the file with its extension:
There are three main categories of applications you can create for your web-based project: HTML only, Active Server Pages, and ASP.NET. This also means that, in your applications, you may deal with various types of files. As featured above, you can create a complete application using only a text editor and IIS. As we will see later on, you can also use Microsoft Visual Studio 2005 to create your application. Just as Notepad supports all these types of applications, Microsoft Visual Studio 2005 also is completely equipped to create, handle, and maintain HTML-only applications, Active Server Pages, or ASP.NET. Everything will depend on what you are trying to do as long as you know that the choice is yours.
An HTML-based application is a web-based project that mostly includes regular pages with HTML tags, optional Cascading Style Sheet formatting, and optional scripts to perform some tasks that are difficult or impossible with only HTML. You can also use other formatting languages like XML to support some type of data in your application but an HTML-based application is primarily meant to use HTML tags to present text and graphics to a visitor. With this type of application, you usually don't expect any back-and-forth interaction between the visitor and you.
To create an HTML-based application, there is no special thing to do in Microsoft Visual Studio because the structure of this type of application lies on its use of web-oriented files. There are only two primary requirements. To start, you must create a folder with a name of your choice. You can create this folder using a utility such as Windows Explorer or My Computer. If you want, you can also use Microsoft Visual Stutio 2005 to create this folder. To do this, as we saw in the previous lesson, you can create an ASP.NET Application. This would prompt you to accept the suggested name of the folder or to give a new name of a folder.
The string you accept or provide on the left side of the Browse button would be the folder that contains your web application. Once you click OK, Microsoft Visual Studio 2005 would create the folder for you and get it ready to receive your files.
After creating the folder of your web-based application, you can create the necessary files for it. The most regularly used files are text-based but they have the .htm or .html extension. This type of file is called an HTML file. You can create the file using Notepad. Otherwise, if you had created the folder using Windows Explorer or My Computer, to create an HTML file in Microsoft Visual Studio 2005, on the main menu, you can click File -> New -> File... In the Templates list of the New File dialog box, you can click HTML Page. In the Name text box, accept or change the suggested name of the file. You can include the .htm extension but if you don't, it would be added for you: