You may plan to create a database that would be used by one person using one computer. As your job becomes more effective, you could be asked to create another database that would be accessed by different people. Regardless of why and how, after creating a database, you should have a way of making it available to those who would use it. To do this, you must create a data source. With Microsoft Access, you have two main options.
In Microsoft Access, a database is created as a computer file and it has a path, that is, where the database file is located. The path to a file is also known as its location. The path to a database, including its name, is also called the data source. In some of your database operations, you will be asked to provide a data source for your database. In this case, provide the complete path followed by the name of the database.
Using the path to a database is probably the easiest way to access it but this is more convenient if you are working in Microsoft Access. If you plan to access your database from another programming environment, then you should create an ODBC data source. To do this, in the Control Panel or the Administrative Tools, double-click Data Source (ODBC) to open the ODBC Data Source Administrator: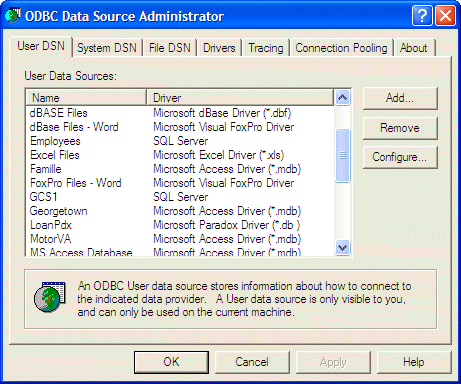 To proceed, click the Add button. This would launch a wizard. In the first page of the Create New Data Source wizard, click Microsoft Access Driver (*.mdb):
Click Finish. In the following screen, you would be asked to enter a name for the data source. You can enter the name in one or more words. The name would be used by the applications that need to access the database. This means that you should pay attention to the name you give. In the Description text box, you can enter a short sentence anyway you like. To specify the database that would be used, click Select and select an mdb database. Here is an example:
After selecting the necessary database, if you need to be authenticated in order to use the database (if the database is protected), click the Advanced button:
By default, a database is meant to allow anybody to use it. In this case, you can leave the Login Name and the Password empty. Otherwise, type the necessary credentials. After using the Set Advanced Options dialog box, click OK (or Cancel to keep it the way it previously was).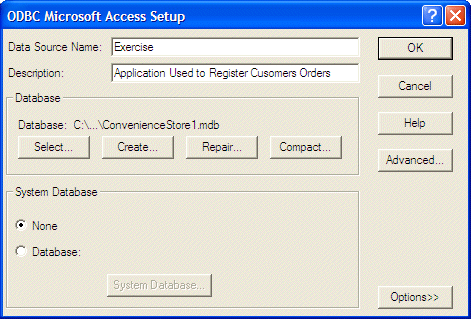 After entering the necessary information and selecting the desired database, you can click OK twice.